Management of Hydrocephalus in Congenital Toxoplasmosis using Pyrimethamine and Sulfonamide: A Systematic Review
Keywords:
Disease transmission, Hydrocephalus, Antibiotics, Congenital toxoplasmosis
Abstract
Background: Congenital toxoplasmosis is a serious disease that occurs when the foetus is infected with the parasite. Toxoplasma gondii. A consequence of vertical transmission from mother to foetus is hydrocephalus. This is classified as an increase in intracranial pressure causing swelling of the brain. It is unknown whether the current gold standard of antibiotic treatment of pyrimethamine and sulfonamide is adequate. The objective of this review is to compare the efficacy of pyrimethamine and sulfonamide treatment duration in managing hydrocephalus induced by congenital toxoplasmosis.
Methods: A systematic review was conducted by two independent reviewers across several medical databases including Ovid MEDLINE, Cochrane Central and EMBASE. Seven articles including case reports, retrospective cohorts, randomised controlled trials, longitudinal studies, and systematic reviews met the inclusion criteria. Infants were classified from birth to 24 weeks old.
Results: There was a lack of conclusive evidence regarding the efficacy and safety of pyrimethamine and sulfonamide. Multiple studies revealed pyrimethamine and sulfonamide were effective in reducing infant deformities and neurological conditions, only when rapidly administered after birth. However, contradicting evidence revealed pyrimethamine and sulfonamide had no significant effect on hydrocephalus.
Conclusion: Novel pharmaceutical interventions for managing hydrocephalus caused by congenital toxoplasmosis are needed, as the existing treatments are inadequate. Since treatment options have dwindled in the last decade, toxoplasmosis is classified as a neglected parasitic infection. Renewed interest in conducting higher-quality trials is required to elucidate different therapeutic interventions for clinical use.
References
1. Ybañez RHD, Ybañez AP, Nishikawa Y. Review on the Current Trends of Toxoplasmosis Serodiagnosis in Humans. Front Cell Infect Microbiol. 2020 May 8;10:204. doi: 10.3389/fcimb.2020.00204.
2. Ahmed M, Sood A, Gupta J. Toxoplasmosis in pregnancy. Eur J Obstet Gynecol Reprod Biol. 2020 Dec;255:44-50. doi: 10.1016/j.ejogrb.2020.10.003.
3. Khan K, Khan W. Congenital toxoplasmosis: An overview of the neurological and ocular manifestations. Parasitol Int. 2018 Dec;67(6):715- 721. doi: 10.1016/j.parint.2018.07.004.
4. Kahle KT, Kulkarni AV, Limbrick DD Jr, Warf BC. Hydrocephalus in children. Lancet. 2016 Feb 20;387(10020):788-99. doi: 10.1016/S0140-6736(15)60694-8.
5. Berrebi A, Kobuch WE, Bessieres MH, Bloom MC, Rolland M, Sarramon MF, Roques C, Fournié A. Termination of pregnancy for maternal toxoplasmosis. Lancet. 1994 Jul 2;344(8914):36-9. doi: 10.1016/s0140-6736(94)91054-5.
6. van der Ven AJ, Schoondermark-van de Ven EM, Camps W, Melchers WJ, Koopmans PP, van der Meer JW, Galama JM. Anti-toxoplasma effect of pyrimethamine, trimethoprim and sulphonamides alone and in combination: implications for therapy. J Antimicrob Chemother. 1996 Jul;38(1):75-80. doi: 10.1093/jac/38.1.75
7. Mandelbrot L, Kieffer F, Sitta R, Laurichesse-Delmas H, Winer N, Mesnard L, Berrebi A, Le Bouar G, Bory JP, Cordier AG, Ville Y, Perrotin F, Jouannic JM, Biquard F, d'Ercole C, Houfflin-Debarge V, Villena I, Thiébaut R; TOXOGEST Study Group. Prenatal therapy with
pyrimethamine and sulfadiazine vs spiramycin to reduce placental transmission of toxoplasmosis: a multicenter, randomized trial. Am J Obstet Gynecol. 2018 Oct;219(4):386.e1-386.e9. doi: 10.1016/j.ajog.2018.05.031.
8. Tamaru S, Kikuchi A, Takagi K, Wakamatsu M, Horikoshi T, Ogiso Y. Fetal therapy of severe symptomatic toxoplasmosis using azithromycin. J Obstet Gynaecol Res. 2011 Jul;37(7):953-7. doi: 10.1111/j.1447-0756.2010.01459.x.
9. Gras L, Gilbert RE, Ades AE, Dunn DT. Effect of prenatal treatment on the risk of intracranial and ocular lesions in children with congenital toxoplasmosis. Int J Epidemiol. 2001 Dec;30(6):1309-13. doi: 10.1093/ije/30.6.1309.
10. Foulon W, Villena I, Stray-Pedersen B, Decoster A, Lappalainen M, Pinon JM, Jenum PA, Hedman K, Naessens A. Treatment of toxoplasmosis during pregnancy: a multicenter study of impact on fetal transmission and children's sequelae at age 1 year. Am J Obstet Gynecol. 1999 Feb;180:410-5. doi: 10.1016/s0002-9378(99)70224-3.
11. Roizen N, Swisher CN, Stein MA, Hopkins J, Boyer KM, Holfels E, Mets MB, Stein L, Patel D, Meier P, et al. Neurologic and developmental outcome in treated congenital toxoplasmosis. Pediatrics. 1995 Jan;95(1):11-20.
12. McAuley J, Boyer KM, Patel D, Mets M, Swisher C, Roizen N, Wolters C, Stein L, Stein M, Schey W, et al. Early and longitudinal evaluations of treated infants and children and untreated historical patients with congenital toxoplasmosis: the Chicago Collaborative Treatment Trial. Clin Infect Dis. 1994 Jan;18(1):38-72. doi: 10.1093/clinids/18.1.38.
13. Peyron F, Wallon M, Liou C, Garner P. Treatments for toxoplasmosis in pregnancy. Cochrane Database Syst Rev. 2000;(2):CD001684. doi:10.1002/14651858.CD001684.
14. Murphy J, Jennings P. The Newborn Clinical Examination Handbook [Internet]. Ireland's Health Services (HSE); 2020;72. Available from: https://www.hse.ie/eng/about/who/healthwellbeing/our-priorityprogrammes/ child-health-and-wellbeing/newborn%20exam.pdf
15. Hotez PJ. Neglected parasitic infections and poverty in the United States. PLoS Negl Trop Dis. 2014 Sep 4;8(9):e3012. doi: 10.1371/journal.pntd.0003012.
16. Burns PB, Rohrich RJ, Chung KC. The levels of evidence and their role in evidence-based medicine. Plast Reconstr Surg. 2011 Jul;128(1):305-310. doi: 10.1097/PRS.0b013e318219c171.
17. Dubey JP. The history of Toxoplasma gondii--the first 100 years. J Eukaryot Microbiol. 2008 Nov-Dec;55(6):467-75. doi: 10.1111/j.1550-7408.2008.00345.x.
18. Peters PJ, Thigpen MC, Parise ME, Newman RD. Safety and toxicity of sulfadoxine/pyrimethamine: implications for malaria prevention in pregnancy using intermittent preventive treatment. Drug Saf. 2007;30(6):481-501. doi: 10.2165/00002018-200730060-00003.
19. Elsheikha HM. Congenital toxoplasmosis: priorities for further health promotion action. Public Health. 2008 Apr;122(4):335-53. doi: 10.1016/j.puhe.2007.08.009.
20. Torgerson PR, Mastroiacovo P. The global burden of congenital toxoplasmosis: a systematic review. Bull World Health Organ. 2013 Jul 1;91(7):501-8. doi: 10.2471/BLT.12.111732.
21. Ferguson W. Newborn screening for congenital toxoplasmosis in Ireland [Internet]. Royal College of Surgeons in Ireland; 2016. Available from: https://doi.org/10.25419/rcsi.10817450.v1
22. Robinson E, de Valk H, Villena I, Le Strat Y, Tourdjman M. National perinatal survey demonstrates a decreasing seroprevalence of Toxoplasma gondii infection among pregnant women in France, 1995 to 2016: impact for screening policy. Euro Surveill. 2021 Feb;26(5):1900710. doi: 10.2807/1560-7917.ES.2021.26.5.1900710.
23. Liu Q, Singla LD, Zhou H. Vaccines against Toxoplasma gondii: status, challenges and future directions. Hum Vaccin Immunother. 2012 Sep;8(9):1305-8. doi: 10.4161/hv.21006.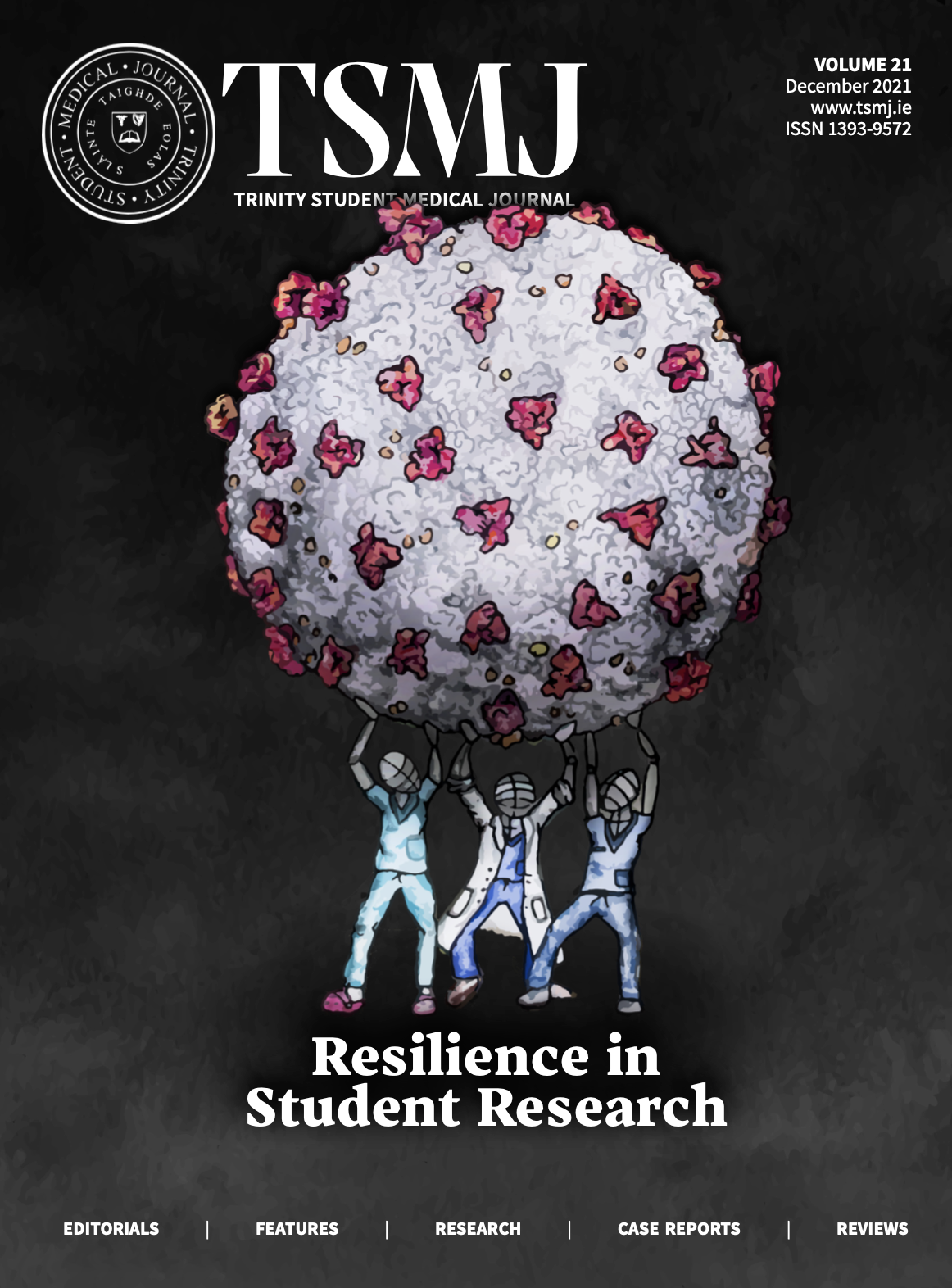 Downloads
How to Cite
Waicus, S., & Vrbanic, L. (2022). Management of Hydrocephalus in Congenital Toxoplasmosis using Pyrimethamine and Sulfonamide: A Systematic Review. Trinity Student Medical Journal , 21(1), 32–36. Retrieved from https://ojs.tchpc.tcd.ie/index.php/tsmj/article/view/2194
License
Authors retain copyright and grant the journal the right of first publication with the work simultaneously licensed under a Creative Commons Attribution (CC-BY) 4.0 License that allows others to share the work with an acknowledgement of the work's authorship and initial publication in this journal.
Provided they are the owners of the copyright to their work, authors are able to enter into separate, additional contractual arrangements for the non-exclusive distribution of the journal's published version of the work (e.g., post it to an institutional repository, in a journal or publish it in a book), with an acknowledgement of its initial publication in this journal.