Unnecessary or Negligent? A Look into the Regulation of Non-Surgical Cosmetic Intervention in Europe
TCD Dermatological Society Essay Competition 2021 – Winner
Keywords:
Non-surgical interventions, European Union, United Kingdom, Patient safety, Medical device, Regulatory
Abstract
The regulation of medical devices and associated procedures is common across the globe, with country and regional variations directly impacting patient safety and ease of access. When considering non-surgical cosmetic interventions within Europe, the variations seen between member states of the European Union and that of the United Kingdom are quite dramatic. These regulations encompass procedures such as dermal fillers, botulinum toxin injections, and the application of lasers for skin rejuvenation treatments. Currently, the regulations in the European Union place an emphasis on quality control and safety for the products used by classifying them as medical devices and enforcing medical licensing requirements for their application. In contrast, the United Kingdom lacks regulation around both quality control and licensing requirements, placing patients at an increased risk for harm. This discussion recognises that patient autonomy and freedom of choice are key principles to be protected within this field, yet emphasis should also be placed on the proper regulation of expert practitioners and on the need for safe medical devices. The regulation of non-surgical cosmetic interventions holds substantial value for societal good, with an increase in safety, efficacy, accountability, and ultimately, patient well-being.
References
1. Cavallo, P., Proto, M. C., Patruno, C., Sorbo, A. D., & Bifulco, M. (2008). The first Cosmetic treatise of history. a female point of view. International Journal of Cosmetic Science, 30(2), 79-86.
2. Reisenwitz, T. H., & Fowler, J. G. (2018). An Exploratory Study of Information Use By Non-Surgical Cosmetic Procedures Consumers. Journal of Business Strategies, 35(2), 76-96.
3. Mikhail, M., Saxby, C., & Armstrong, A. (2019). Champions of patient safety in the non-surgical aesthetic sector. The Bulletin of the Royal College of Surgeons of England, 101(6), 232-234.
4. Kamouna, B., Darlenski, R., Kazandjieva, J., Balabanova, M., Dourmishev, L., Negentsova, Z., . . . Tsankov, N. (2015). Complications of injected vitamin e as a filler for lip augmentation: Case series and therapeutic approach. Dermatologic Therapy, 28(2), 94-97.
5. Lowe, N. J., Maxwell, C. A., & Patnaik, R. (2005). Adverse reactions to dermal fillers: Review. Dermatologic Surgery, 31, 1626-1633.
6. United Kingdom Department of Health. Review of the Regulation of Cosmetic Interventions. London: DHSC; 2013.
7. Funt, D., & Pavicic, T. (2013). Dermal fillers in aesthetics: An overview of adverse events and treatment approaches. Clinical, Cosmetic and Investigational Dermatology, 6, 295-316.
8. Klein, A. (2004). Contraindications and Complications With the Use of Botulinum Toxin. Clinics in Dermatology, 22(1), 66-75.
9. Kovacs, E., Schmidt, A. E., Szocska, G., Busse, R., McKee, M., & Legido- Quigley, H. (2014). Licensing procedures and registration of medical doctors in the European Union. Clinical Medicine, 14(3), 229-238.
10. Pickett, A. (2011). Serious issues relating to counterfeit dermal fillers available from internet sources. Journal of the American Academy of Dermatology, 65(3), 642-643.
11. Rowland-Warmann, M. J. (2020). Dermal Fillers: Lack of Regulation Poses a Real Threat to Patient Safety. Expert Witness Journal, (1), 61-66.
12. Kelso, K. (2020). EU medical Device Regulation 2017/745 versus US food and Drug Administration approval of Dermal filler products. Journal of Aesthetic Nursing, 9(8), 320-324.
13. Geremia, F. (2018). Quality aspects for medical devices, quality system and certification process. Microchemical Journal, 136, 300-306.
14. Uth, C. C., Elberg, J. J., & Zachariae, C. (2016). Complications caused by injection of dermal filler in Danish patients. European Journal of Plastic Surgery, 39(6), 441-448.
15. Mills, C. (2019). More regulation needed on dermal fillers. British Dental Journal, 227(255), 6-8.
16. Siegler, M. (1985). The progression of medicine. from physician paternalism to patient autonomy to bureaucratic parsimony. Archives of Internal Medicine, 145(4), 713-715.
17. Torjesen, I. (2013). Cosmetic interventions need tighter controls to protect patients, review concludes. BMJ, 346(11), 2631-2632.
18. Griffiths, T. (2015). A mandatory register is absolutely necessary for non-surgical cosmetic interventions. Journal of Aesthetic Nursing, 4(6), 286-287.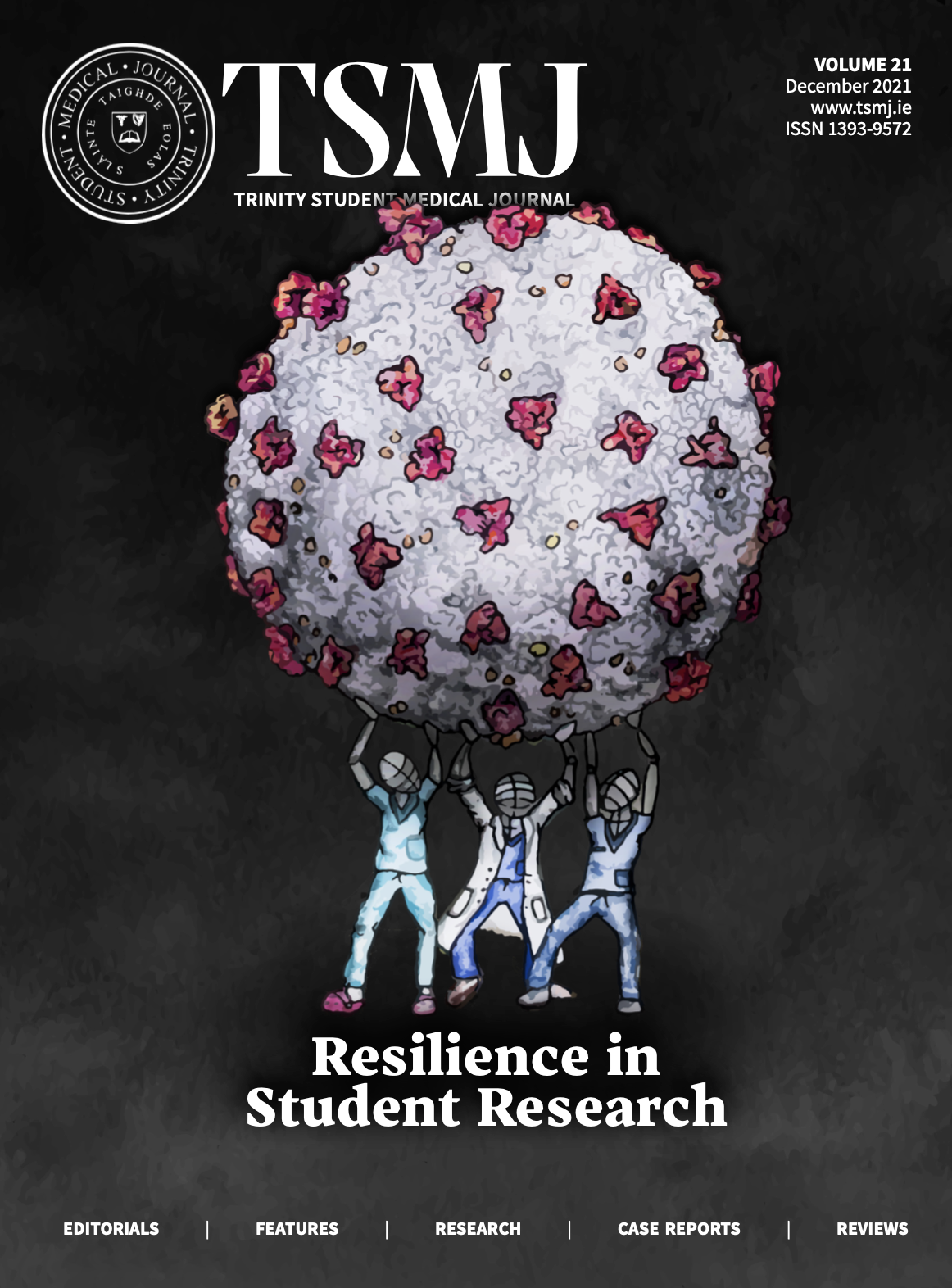 Downloads
How to Cite
Huwyler, G. (2022). Unnecessary or Negligent? A Look into the Regulation of Non-Surgical Cosmetic Intervention in Europe: TCD Dermatological Society Essay Competition 2021 – Winner. Trinity Student Medical Journal, 21(1), 11–13. Retrieved from https://ojs.tchpc.tcd.ie/index.php/tsmj/article/view/2190
License
Authors retain copyright and grant the journal the right of first publication with the work simultaneously licensed under a Creative Commons Attribution (CC-BY) 4.0 License that allows others to share the work with an acknowledgement of the work's authorship and initial publication in this journal.
Provided they are the owners of the copyright to their work, authors are able to enter into separate, additional contractual arrangements for the non-exclusive distribution of the journal's published version of the work (e.g., post it to an institutional repository, in a journal or publish it in a book), with an acknowledgement of its initial publication in this journal.